Bode's Galaxy & Cigar Galaxy
M81 & M82 / NGC 3031
Bode's Galaxy is a grand design spiral galaxy which means it has prominent and well-defined spiral arms. It is about 12 million light-years away, and is 90,000 light-years across. Its nucleus is a supermassive black hole, with a mass 70 million times that of our Sun.
June 2022 version
We have reprocessed the data captured a year and a half ago. Various mistakes were made shooting the original data so we tried to correct them. See the process below.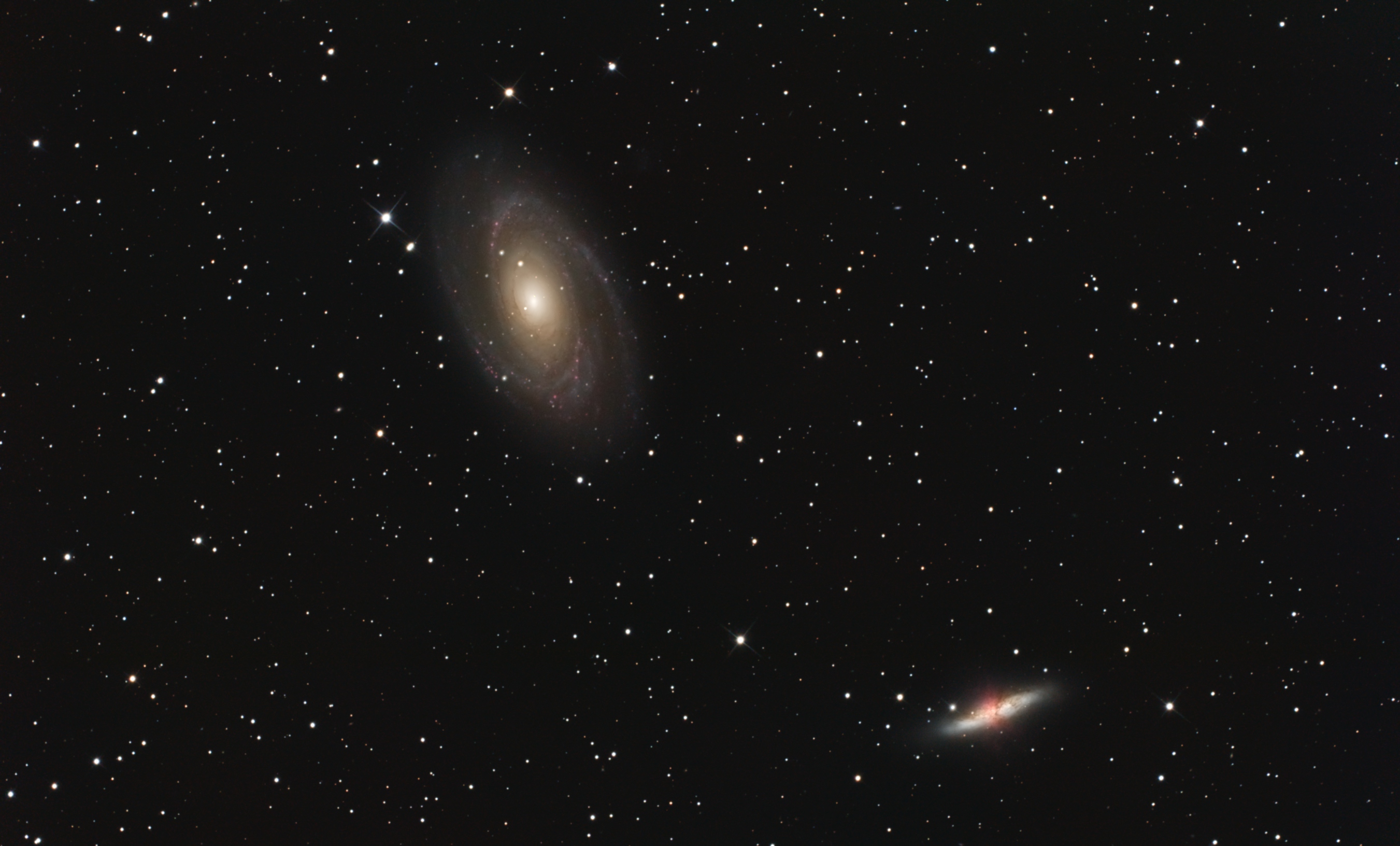 The process used:
Blinked the subframes, excluded the really bad ones (just 7)
The darks in case of the Canon 7D, when substracted, degrade the lights, not improve them. Instead now they are only used to detect dead pixels and hot pixels, which are then cosmetically corrected before further processing (avarages of the adjacent same color pixels).
The flats are unfortunately underexposed and completely missing the red channel. The underexposure can not really be fixed now, but the red channel was synthetized from green and red subpixels (simply as a superpixel): iif(!(x()%2) && !(y()%2), (p($T, x()+1, y()+1)+p($T, x(), y()+1, 0)+p($T, x()+1, y()))/3, $T)
The integration was done with local normalization and 5% blending of the edges
Corrected with Kang-Weiss vignetting model
Gradient removal
Color correction based on black body extinction
TGV denoise + Multiscale Median Transform
StarNet2 (linear) to separate the background+galaxies from the stars
Galaxies:

Light stretch with the background
Ellipsoid mask with a gradient (convuluted)
RGB and saturation stretch of the galaxies
Unsharp mask blended in

Stars:

RGB and saturation stretch
Touch of convolution to get rid of flat top stars

Additive combination of the above
For comparision, blink with the previous version (star aligned)!
| | |
| --- | --- |
| Telescope | Skywatcher 200PDS (200/1000 Newton) |
| Filter | IDAS D2 (multi-bandpass light pollution filter) |
| Coma corrector | Skywatcher f/5 (0.9x focal reducer) |
| Camera | Canon 7D Mark II (APS-C) |
| Resolution | 2702x1632 (cropped & scaled 50%) |
| Light frames | 100/107 (best fwhm), 180s @ ISO 400, 5h in total |
| Dark frames | 16 (180s) |
| Bias frames | 20 (1/8000s) |
| Flat frames | 26 (1/50s) |
| Location | Bolton, UK |
| Local time | 2020-12-24 23:09 - 06:10 (including a meridian flip!) |
| Field of view | 1°24' x 50' |
| Image center | 9h55m53s +69°16'09 (rotation 134°) |
December 2020 version
Bolton skies are what they are, and we also had to deal with a ~76% illuminated moon. The temperature was around -3°C, wind 3-5km/h, 85% relative humidty.
For us this was a first for a number of reasons:
First picture of the Bode's Galaxy & Cigar Galaxy
Never before have we been able to geather 5h21m exposure on a single subject :) The tech worked really well on this one and we only had to discard 3 of the 110 images; 2 due to wind/guiding error and 1 because of a satellite.
First time imaging from our rooftop. Tight spot, obstructed views, but … warm sofa. So far we like this trade-off :P As a bonus, this location is mostly protected from the West winds.
Also, we tested the new guiding scope rings & dovetail that was 3D printed by a friend for us (see below). If you have a Synta 9x50 finder and fancy one these then let us know.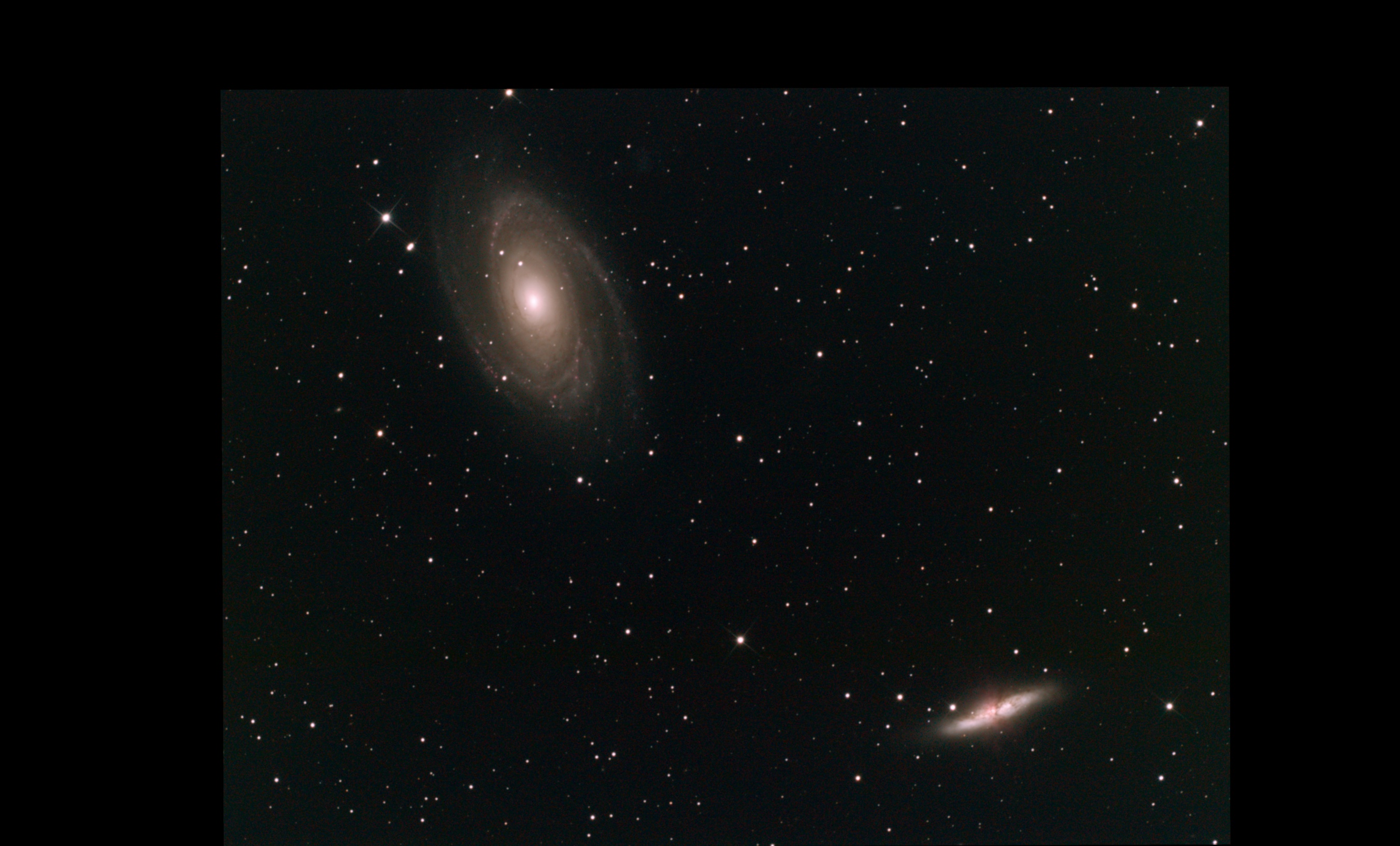 Guiding equipment: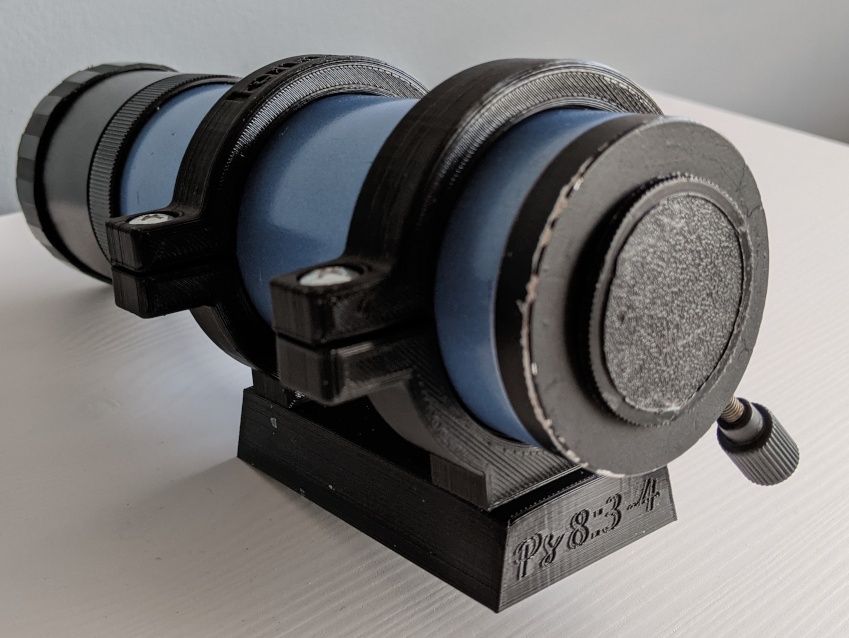 As for the satellite(?) that photobombed frame 110, we could not identify it, possibly not in the public database. Any guesses?
Image center: RA 9h 54' 54", DEC 69° 17' 32"
FOV: 1° 25' 16" x 56' 56" (rotated +134.42°)
Location: Bolton, UK
Time: 2020-12-25 06:11-06:14 GMT
Trail center is roughly at RA 9h 49', DEC 12° 29'